The First Faculty, 1971-1975 (in surname alphabetical order)
Mrs. Aborro, Marcela S.
Mr. Aguilar, Jose V. (Division Supervisor-in-Charge, 1974-75)
Miss Aguilar, Rosea
Miss Alonzo, Felicitas B.
Mr. Andres, Elfren
Mrs. Babon, Patria
Mrs. Braņa, Elfigia R. – first school registrar. Mrs. Braņa is the longest serving surviving educator in the history of the GSISVHS-IMSHS. She had been globetrotting since her retirement in 2006.
Miss Buenaventura, Primitiva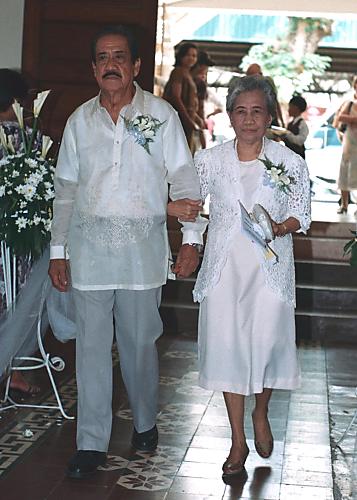 Pioneer mentor Mrs. Elfigia R. Bra
ņ
a (right), English teacher of the
IMSHS (GSISVHS), posing as core sponsor to her former student's 25th
wedding anniversary vow renewal ceremony in 2007.
reunion of pioneer mentors and students in Los Angeles, California, USA thirty-two years
later from Grants Street high school hosted by Mr. Reynaldo Saldivar Rodrigo (Class 1975)
in his Orange County mansion on 13 October 2007 . . . in focus include former mentors
US-residents Ms. Aurora Lim (right) and Mrs. Martina R. Custodio (middle), and jetsetter
Mrs. Salud S. Lapuz (left).
* music by Sharon Cuneta courtesy of IMSHS Class 2008
"A good teacher is like a candle - it consumes itself to light the way for others."
~Author Unknown
Revisit the old campus of the former GSIS Village High School (GSISVHS) on Grants Street, GSIS Village, Brgy. Sangandaan, Quezon City, Metro Manila.
Mr. Cabiles, Ferdinand M.
Mrs. Caindec, Ligliwa – a biology teacher, she was also teaching science subjects in nearby state science and QC high schools during her active service at the GSISVHS. Mrs. Caindec replaced Mrs. Lilia A. Sahagun in 1993 as principal of the Quezon City Science High School until her demise in 1997.
Miss Canlas, Cristina S.
Mrs. Chancoco, Alcestes M.
Miss Chico, Maria Antonia I.
Mrs. Concepcion, Josefina G.
Mrs. Cordero, Aurora S.
Miss Cruz, Erlinda C.
Mrs. Custodio, Martina R.
Mrs. Delfinando, Corazon L.
Mrs. De Silva, Florita
Miss Dizon, Corazon C.
Mrs. Esguera, Leonora
Mrs. Francisco, Simeona A.
Pioneer mentor Mrs. Aurora S. Cordero (left), first Pilipino teacher of the IMSHS
(GSISVHS) meets her former students 32 years later at a reunion hosted by Mr. Cesario
C. Dayego (Class 1975) in his residence on GSIS Village, Quezon City in May 2007. With Mrs.
Cordero in photo is former student, Mr. Edgardo C. Amistad (Class 1975), who is now an
executive officer of the United Coconut Planters Bank of the Philippines in Quezon City.
Click photo for more.
Mrs. Galanza, Carolina J.
Mrs. Garinto, Elena G.
Miss Gavanzo, Elena
Mrs. Grego, Didi Shirley C. – the mother of high school journalism and creator of the GSISVHS-IMSHS school publication, "The Village Bounty". In 1971, Mrs. Grego baptized the school organ with a name based from the old school's location on Grants Street that was also symbolic of the term "bounty" meaning gift or grant. The GSISVHS was a bounty to the humble villagers and denizens from surrounding areas. She dedicated her life to teaching the "Filipino youth" in the former GSISVHS until her retirement from the service in 2008 at the IMSHS. Like Mrs. Braņa, she is the longest serving pioneer mentor in the institution. She passed away on 1 May 2009.
Miss Guinsatao, Hilaria
Mrs. Guzman, Leonor
Mrs. Ison, Sylvia.
Mrs. Jaca, Maria G.
Mr. Jarme, Tomas J.
Mr.. Jomok, Dominador C
Mrs. Lapuz, Salud S.
Miss Lim, Aurora
Miss Macatangay, Angelina C.
Miss Malubay, Estrellita C.
Seņora Conchita Martin (la maestra en la clase espaņola)
El Seņor Reynaldo Saldivar Rodrigo (IMSHS, La Clase 1975) baila con
latina.
(English translation) Mr. Reynaldo Saldivar Rodrigo (IMSHS, Class 1975) dances with latina.
(Tagalog translation) Ginoo Reynaldo Saldivar Rodrigo (IMSHS, Klase 1975) isinasayaw ang latina.
Mr. Martinez, Dominador
Mr. Mata, Paterno P.
Mrs. Mejia, Milagros A.
Mrs. Nario, Maria Luisa
Mrs. Novales, Regina I. (Head Teacher-in-Charge, 1971-1973)
Major Pablico, Tomas A. (the great Kumander Ilocano and Kumander Pabling aka 'manong esprit-de-corps')
Miss Pagal, Erlinda V.
Mrs. Puno, Antoinette C.
Mrs Quezon, Aida
Miss Ramirez, Angelita
Miss Raquel, Fe C.
Mr. Rivera, Arturo B.
Mrs. Rodriguez, Rosita
Mrs. Saavedra, Carmelita M.
Mrs. Sahagun, Lilia A. – became the principal of the Quezon City Science High School in 1986 until her retirement in 1993.
Mrs. Sandoval, Juanita C.
Miss Sanggalang, Norma C.
Mr. San Buenaventura, Jose
Miss San Pedro, Aurora S.
Miss Santa Rosa, Elena
Miss Sembrana, Candida
Mrs Simbul, Corona.F.
Mrs. Tan, Benita F.
Mrs. Umipig, Nelly R. (dakilang guro sa klase pilipino)
Miss Valdenor, Remedios B.
Mrs. Vargas, Teresa V.
Miss Victoriano, Evelyn S.